Full-Throttle Leadership Road Rules:   
Position doesn't make you a leader. Action makes you a leader
It's been said there are "three ways to develop great leadership, but no one knows what they are."
WWII Veterans Bert Stolier and Tom Blakey were the exceptions to the rule.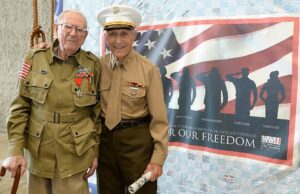 On a bright Sunday morning in 2013 while on a solo motorcycle ride around the perimeter of the U.S., I made a stop at the National WWII Museum* in New Orleans, and spent some time with these two WWII veterans.  Bert, who was 94 years old at the time and ran 3 miles every day; enlisted in the Marines in 1940 and served throughout the Pacific. He was stationed at Pearl Harbor during the Japanese attack on Dec. 7, 1941, and later was assigned to the USS Northampton, which was torpedoed and sunk off Guadalcanal at night during the Battle of Tassafaronga. Tom, 93, enlisted in the Army, graduated from jump school, and joined the 82nd Airborne Division. He parachuted into Normandy on D-Day, June 6, 1944, and later saw action at the Battle of the Bulge.
Their wisdom, life lessons, leadership service and personal sacrifice provided clear-cut examples of the singularly essential quality every great leader must possess, and more importantly; be able to inspire in others, PASSION.
I define passion as a strong conviction or loyalty; a purposeful interest in an idea or activity resulting in good work done on behalf of others rather than an obsessive desire for something, usually for ourselves. When it comes to leadership, that's a difference worth noting.
 "When you lead men, you do it with the thought of what's not just good for you, but always what's best for them," Bert said.
Tom recalled his commanding officer, Lt. General James Maurice Gavin, who earned the nickname "Jumpin' Jim" because of his practice of taking part in combat jumps with the paratroopers under his command. Gavin, the only American general officer to make four combat jumps during WWII, was a West Point graduate who also fought against segregation in the U.S. Army. He earned the respect of his men because, as Tom said, "he loved us enough to get down in the mud and dirt with us."
"Gavin could take the entire 505 (505th Parachute Infantry Regiment), put them toe-to-toe at the edge of the Grand Canyon and say 'jump' and every one of us would have jumped because he would have jumped first," he said with a smile.
Bert agreed. "Our leaders believed they could handle anything, and they made us believe we could too," adding; "we were told we had a job to do. That was it. We did it and, thank God, we came home."
One of my favorite leadership quotes is, "A leader is a dealer in hope."
It's a curious perspective on leadership, especially in light who said it and what it reveals about the nature of authentic leadership; in this case, the 18th Century Emperor of France, Napoleon Bonaparte; not someone often quoted as a symbol of inspiration and hope.
Napoleon was a great military commander, but also a brutal dictator. He waged relentless wars and conquered most of the known European powers of his day. In his lust for power and authority, 500,000 of his army lay dead in the snow outside Moscow and eventually he suffered an overwhelming defeat at Waterloo that ended in exile.  Maybe I need to get a new favorite leadership quote.
Or maybe, as leaders, we need to care about our people and not just authority. Authentic leadership keeps everyone inspired, involved, and moving forward together. It separates the intentional from the accidental.
A leader who deals "Hope" creates Passion for the Possible. Passion lies in your singular capability to influence and engage others with conviction and authenticity, the first and most-important roll on the leadership throttle. Passion, therefore, becomes an exercise in identifying the two of the most important steps on any journey:
Where are you going?
Who is riding with you?
When you know where you're going and who is riding with you, your capacity to accomplish and become successful improves exponentially. Endless possibilities open when you roll on that throttle. Passion keeps everyone inspired, involved, and moving forward together. It separates the intentional from the accidental. When passion guides the ride, everyone involved "Gets IT."
Bert and Tom told me that riding my motorcycle around the country was (literally and figuratively) the "vehicle" that would get me WHERE I wanted to go, but serving others was would make the journey successful. I knew than the ride wasn't about me or a bucket list. I was riding FOR Bert and Tom, and people I had yet to meet who needed me to use my passion for riding to share their stories, to say thank you, and perhaps bring some attention and support to a cause bigger than a guy from Texas on a motorcycle ride around the country.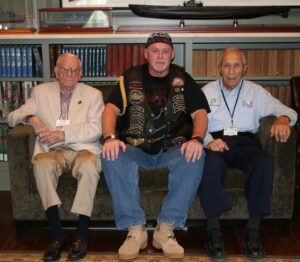 Throughout our conversation Bert and Tom were very genuine and humble when discussing their military service, refusing to be labeled what broadcaster Tom Brokaw termed "The Greatest Generation." I think the description is most appropriate and well-earned. I was feeling very "lucky" to share some time with these remarkable men and told them so.
"Everyone is lucky sometime," Bert said with a sly grin, recalling his combat experiences in the Pacific Theater during WWII. "It's what you do with luck that matters."
Bert Stolier returned to New Orleans after the War and, with his wife, Marian, owned and operated a string of Swenson's ice-cream parlors. When the National World War II Museum opened, Bert quickly became one of seven WWII-veteran volunteers known as the "A-Team" who shared war time experiences with thousands of visitors.  He was awarded the Museum's Silver Service Medallion in 2015 in recognition of his service in the Marine Corps and in retirement. He also was honored with a dedicated seat in the museum's Solomon Victory Theater and a commemorative brick in the Campaigns of Courage Pavilion.
Bert Stolier died on June 13, 2016. He was 97 years old and the longest-serving WWII-veteran museum volunteer.
Tom Blakey relocated to New Orleans after the war and founded Blakey's Log Service, an oil field supply company. He was called the museum's "Number One Volunteer," contributing 15,000 volunteer hours as a speaker and interpretive guide. One of his favorite stories was how a child's toy, known as the "cricket," played a vital role in the D-Day Invasion. U.S. troops would click the noisemaker, which "chirped" like the insect it was named for whenever they contacted unidentified troops. Tom said if you received a click back with the correct coded response, "you knew you had a friend." 
More than 160,000 Allied troops landed along a 50-mile stretch of heavily fortified coastline on the beaches of Normandy, France, with 5,000 Ships and 13,000 aircraft supporting the D-Day invasion in its battle with Nazi Germany. By day's end, more than 9,000 Allied Soldiers were killed or wounded.
Blakey, who a recipient of the French Legion of Honor Medal, returned to Normandy eight times after the war, including during the 70th anniversary of D-Day in 2014, Towards the end of his life, Tom revealed he had suffered severely from the effects of PTSD for nearly 70 years. It affected his personal relationships for decades and he hoped by speaking out, he could help those young men and women similarly returning home from Iraq and Afghanistan who were affected.
Tom Blakey died in his home on January 15, 2015. He was 94 years old. Hundreds attended his memorial service in the U.S. Freedom Pavilion at the National World War II Museum.
Bert and Tom, like so many of the "Greatest Generation," were national treasures. They understood passion can be your GPS to find a meaningful "Route to Stand Out" as a person and a professional. Passion reminds us to slow down and remember riding faster than everyone else only guarantees you'll ride alone.
A leader who deals Hope creates Passion for the Possible. That's a Ride everyone wants to join.
Find Your Passion. Find Your Ride.
*Any organization or individual genuinely interested in learning about leadership should invite a WWII veteran to lunch or to speak to your team. According to recent statistics from the Veterans Administration, their numbers are below 1 million, a small fraction of the 16 million Americans who served during WWII. We are losing these men and women, and their memories, at a rate of 492 each day. Their experiences and insights into leadership service and sacrifice are invaluable, a national treasure, which will be gone too soon.