My friend, Alison Kieckhafer, CMP, is on to something BIG!
When she assumed the presidency of the Meeting Professionals International Dallas/Fort Worth Chapter earlier this year, Alison chose a powerful theme for her term; "Activate Your Goodness." She has personally challenged all 800+ chapter members to act on improving the community and the larger world around them. You can check out her presidential message at MPI D/FW.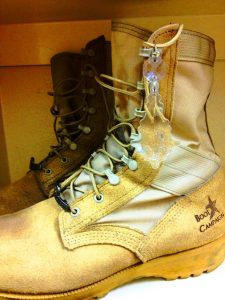 To kick-off her leadership campaign, Alison gave each member of the MPI D/FW Chapter a small crystal ornament, urging them to find a chairitable organization and work on its behalf. I already had a cause, The Boot Campaign, so I hitched her "Goodness Crystal" to the saddlebags of my Harley-Davidson in July and took it with me for 13,000 miles along the perimeter of the U.S. for 32 days through 34 states to honor our veterans and active-duty military. In all kinds of weather; storms along the Gulf Coast, a wildfire in Montana, California sunshine and blistering heat in the desert Southwest, it was always there a reminder to work for a cause, not applause.
Alison gets it. She knows that real leadership has a servant's heart, and that a truly great leader must be fully invested in the future of others, personally and professionally. After 20 years teaching leadership and team success strategies to some of the best-known organizations in the world, I've learned one immutable leadership truth; "you are what you do." Unfortunately, most "leaders" talk a good game, but walk nothing consistent with their words. Mostly, it's all about them. I see it every day and, more to the point, have worked alongside some of the worst "leaders" imaginable. Really bad.
Anyone who expects to lead should know what they stand for. THINK about that one carefully, because I guarantee you the members of a team know exactly what their "leader" is all about. I recently spoke on this subject to a group of Association Executives in New Mexico.
Here's a News Flash! Leadership: It's NOT about YOU!
Great leaders do the important things really well, it's what makes them truly great.
Listen – Makes the voice of others more important than your own. The most basic and powerful way to connect to someone is to listen. John Wayne gave us the best description of a bad "leader" – "short on ears and long on mouth."
Focus – Hack away at the unessential. Job #1 for any leader is to keep the team focused on the mission. That's a tremendous challenge in a competitive and fast-changing environment.
Influence – The Gold Standard of Leadership. You don't need position or authority to be influential; some of the most influential people I've ever met probably have no idea the amazing lessons I learned just by watching them. Know this; coersion and compliance won't ever build lasting team success. A person who deserves my loyalty, receives it.
People -Every biker knows that riding faster than everyone else only guarantees you'll ride alone. Learn to appreciate the intrinsic value of people beyond their tangible contributions to the team. Get interested in people for who they are, not what they can do for you.
Build Community – Leaders shape lives, change perceptions and help others fulfill their purpose. To do this well requires being in the present moment, not expecting a huge payoff later. The magic of leadership works, not in proximity, but through commitment and openness.
I visited some of the most incredible places on my Full-Throttle Leadership Ride earlier this year, but it was the AMAZING people I encountered all across the country who made the journey a remarkable and life-changing experience. WWII veterans Bert Stolier (USMC) and Tom Blakey (USA) met me on a Sunday morning in New Orleans to share their memories of Pearl Harbor and Normandy. I had lunch with a homeless Vietnam veteran in Norfolk who was more worried about the veterans returning from Iraq and Afghanistan than he was about his own situation. A few Navy wives in San Diego invited me to dinner in their home because they hoped someone might do the same for their husbands who were all on active duty. An Army Dad at a roadside stop wanted to give me gas money after learning of my fund-raising efforts – his son is currently serving in harms way.
Its no coincidence that each of the military branches has a creed deeply rooted in service to others.
What is your leadership creed?
In her book, Second Glance, author Jodi Picoult writes this about serving others. "Heroes didn't leap tall buildings or stop bullets with an outstretched hand; they didn't wear boots and capes. They bled, and they bruised, and their superpowers were as simple as listening, or loving. Heroes were ordinary people who knew that even if their own lives were impossibly knotted, they could untangle someone else's. And maybe that one act could lead someone to rescue you right back."
How are you "Activating Your Goodness" in leadership and service to others?