It's been said there are "three ways to develop great leadership, but no one knows what they are."
WWII veterans Bert Stolier and Tom Blakey were the exceptions to the rule. I met them both on a bright Sunday morning at the National WWII Museum in New Orleans in 2013, and not a day goes by that I don't remember their wonderful spirit and remarkable lives.
Bert, who was ninety-four years old at the time and ran three miles every day, enlisted in the Marines in 1940 and served throughout the Pacific. He was stationed at Pearl Harbor during the Japanese attack on Dec. 7, 1941, and later was assigned to the USS Northampton, which was torpedoed and sunk off Guadalcanal at night during the Battle of Tassafaronga. Tom, ninety-three, enlisted in the army, graduated from jump school, and joined the 82nd Airborne Division. He parachuted into Normandy on D-Day, June 6, 1944, and later saw action at the Battle of the Bulge.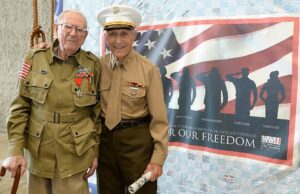 Their wisdom, life lessons, leadership service, and personal sacrifice provided clear-cut examples of the singularly essential quality every great leader must possess and, more importantly, be able to inspire in others: "Passion."
I define passion as a strong conviction or loyalty, a purposeful interest in an idea or activity resulting in good work done on behalf of others rather than an obsessive desire for something, usually for ourselves.
When it comes to leadership, that's a difference worth noting.
"When you lead men, you do it with the thought of what's not just good for you but always what's best for them," Bert said.
Tom recalled his commanding officer, Lt. General James Maurice Gavin, who earned the nickname "Jumpin' Jim" because of his practice of taking part in combat jumps with the paratroopers under his command. Gavin, the only American general officer to make four combat jumps during WWII, was a West Point graduate who also fought against segregation in the US Army. He earned the respect of his men because, as Tom said, "he loved us enough to get down in the mud and dirt with us."
Leaders need to care about our people and not just authority. Authentic leadership keeps everyone inspired, involved, and moving forward together. It separates the intentional from the accidental.
"Everyone is lucky sometimes," Bert said with a sly grin, recalling his combat experiences in the Pacific Theater during WWII. "It's what you do with luck that matters."
Bert Stolier returned to New Orleans after the war and, with his wife Marian, owned and operated a string of Swenson's ice-cream parlors. When the National World War II Museum opened, Bert quickly became one of seven WWII-veteran volunteers known as the "A-Team" who shared war-time experiences with thousands of visitors. He was awarded the Museum's Silver Service Medallion in 2015 in recognition of his service in the Marine Corps and in retirement. He also was honored with a dedicated seat in the museum's Solomon Victory Theater and a commemorative brick in the Campaigns of Courage Pavilion.
Bert Stolier died on June 13, 2016. He was ninety-seven years old and the longest-serving WWII-veteran museum volunteer.
Tom Blakey relocated to New Orleans after the war and founded Blakey's Log Service, an oil field supply company. He was called the
museum's "Number One Volunteer," contributing 15,000 volunteer hours as a speaker and interpretive guide. Blakey, who was a recipient of the French Legion of Honor Medal, returned to Normandy eight times after the war, including during the seventieth anniversary of D-Day in 2014. Toward the end of his life, Tom revealed he had suffered severely from the effects of PTS for nearly seventy years. It affected his personal relationships for decades, and he hoped by speaking out, he could help a new generation of warfighters returning home from Iraq and Afghanistan who were similarly affected
Tom Blakey died in his home on January 15, 2015. He was ninety-four years old. Hundreds attended his memorial service in the
US Freedom Pavilion at the National World War II Museum.
Bert and Tom understood passion can be your GPS to find a meaningful route to stand out, personally and professionally.