It's that time again. Promise to do this. Expect to accomplish that. We make all kinds of resolutions every New Year – 90% of them related to health and relationships – and most of us will, sadly, not achieve them.
Maybe that's because most New Year Resolutions are focused inward – on us. And let's face it, we are always ready to make excuses for ourselves. If anyone deserves a break, its "me," right?
So, what if this year we resolve to do something for someone else? How about making 2014 the "Year of the Influence Resolution."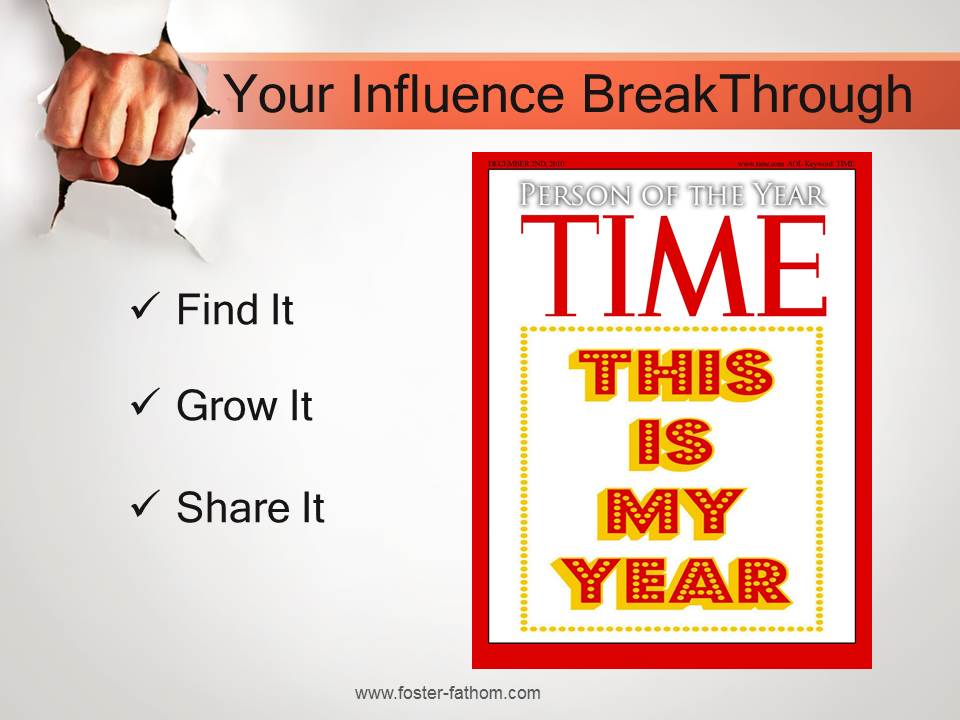 Influence is described as " the capacity or power of persons or things to be a compelling force, and/or produce effects on the actions, behavior and opinions of others." Each one of us has been influenced by someone special; a relative, friend or mentor who sparked an interest or provided encouragement just when we needed it. And we are certainly influenced by celebrity.
Since 1927, TIME Magazine has chosen a man, woman, or idea that "for better or worse, has most influenced events in the preceding year." The list of 86 includes trailblazers, world leaders, cultural icons, the famous and the infamous. Charles Lindbergh was the first and the youngest, person to receive the distinction; which also has included U.S. Scientists (1960), American Women (1975), the computer (1982), the Earth (1988) and the American Soldier (2003). Since the list began, every serving President of the United States has been a Person of the Year at least once except Calvin Coolidge, Herbert Hoover and Gerald Ford.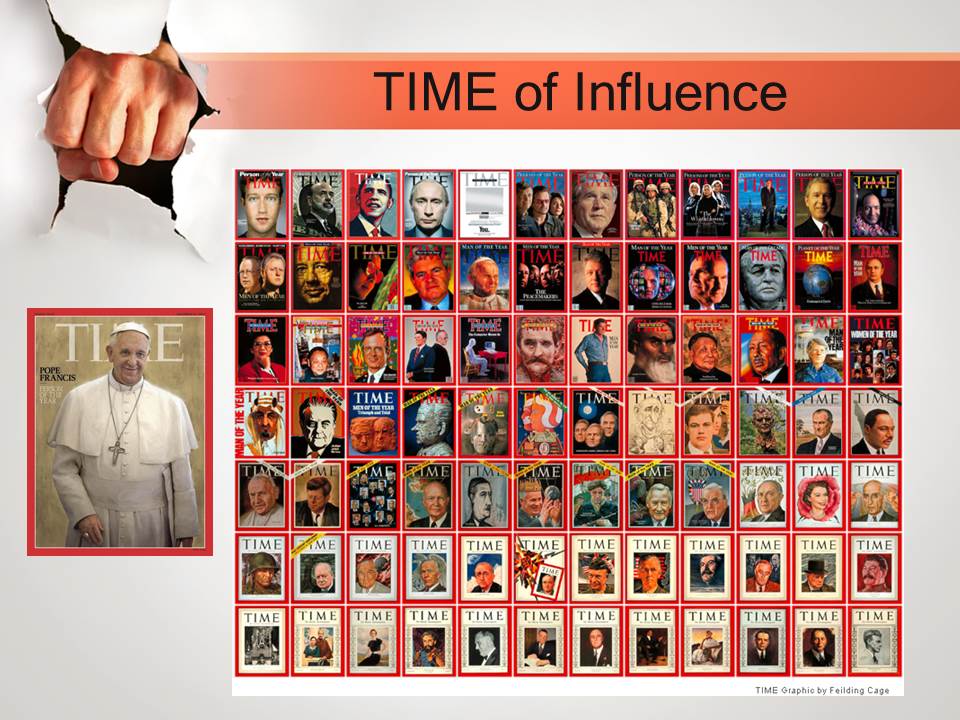 Even "YOU" were named in 2006 when Time recognized the millions of people who anonymously contributed user-generated content to blogs, wikis, social media and other websites.
What we do every day can have a positive effect on those we know – family, friends, customers, partners and co-workers – and in a larger sense, change the lives of even those we've never even met. I experienced that personally last year after reading the book, "Lone Survivor" by former Navy SEAL Marcus Luttrell. His personal commitment to tell the story of Operation Red Wing and honor the ultimate sacrifice of his SEAL Team brothers set in motion a chain of influence in my life that continues to this day.
Lone Survivor led me to the Boot Campaign, a grassroots initiative started by five women from Texas known as the Boot Girls who were themselves inspired to action after reading the book. Their unique campaign encourages everyone to "get their boots on" to show appreciation for troops, cultivate awareness of the challenges they face upon return and raise funds for assistance programs meeting the physical and emotional needs of our military.
With their encouragement and support, I hit the road in the summer of 2013 for a 32-Day, 34-State, 13,000-Mile solo motorcycle ride along the perimeter of the United States to support our veterans and active-duty military. The "Full-Throttle Leadership Ride" renewed my personal leadership mission – to help others ignite their own passion, discover a meaningful full-throttle purpose and power it in service to others.
If there was ever a moment to do something that really matters, that time is NOW! Make 2014 the year you INFLUENCE others in a significant way. Here's how:
Find your Route to Stand Out. Look for a cause that speaks to you and sign-on
Create SEPARATION. Look for ways to make a distinctive difference
Have a positive attitude and a great work ethic
Take a Risk – t rust me, it's always worth it
Break through the Clutter
Be responsible for your own self-determination
Get creative, persistent and passionate about identifying new opportunities to leverage what you do and who you know in service to others in need. Influence really does make a difference and will have more of an impact on your success than any other quality or skill you can develop.
2014 is Your Year!