I have been riding motorcycles for about 45 years; it is what I do for pure enjoyment. There are few things better than getting out on the open road, seeing new places and meeting interesting people.  In 2013, I had the opportunity to check off the item sitting in the Number One spot on my personal Bucket List; a 32-day, 34-state, 13,000-mile solo motorcycle ride along the perimeter of the United States.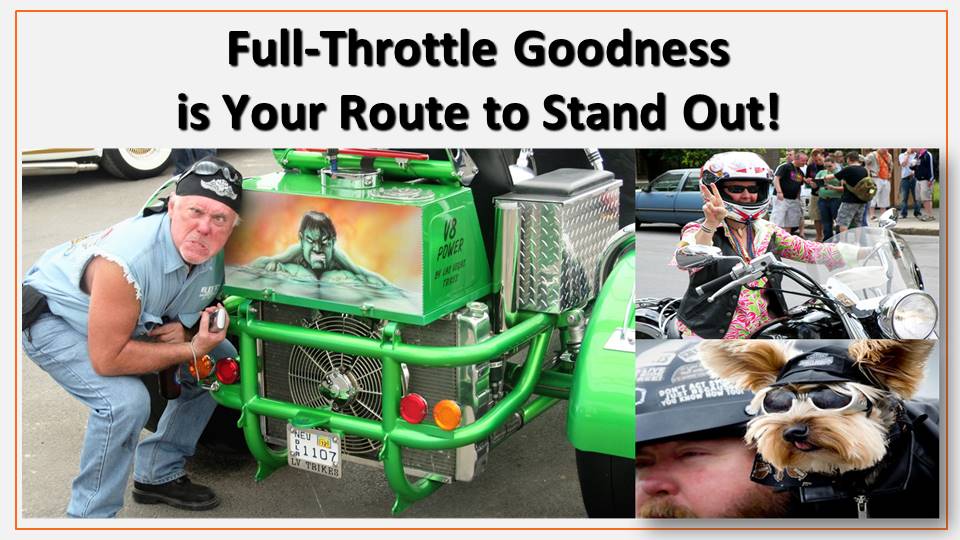 Perhaps like your own Bucket List, mine sat unmoved for many years until I heard about an organization called The Boot Campaign founded by five women in Texas who wanted to do something meaningful on behalf of our nation's service men and women, veterans and their families. Inspired by their passion to give back, my ride was transformed into a cause; raising awareness and support for The Boot Campaign.  I had accepted a much bigger challenge than just riding around America on a motorcycle; my goal now was to influence everyone I met along the way to live out The Boot Campaign's mission, "When They Come Back, We Give Back."
What I learned along each mile of my journey is that each of us can fuel our lives with PASSION, POWER & PURPOSE to GIVE BACK and create amazing personal and professional success through what I call "Full-Throttle Goodness."
Thomas Edison said it best; "If we did ALL the things we are capable of, we would astound ourselves." And not just that, I believe we would change ourselves and change the world.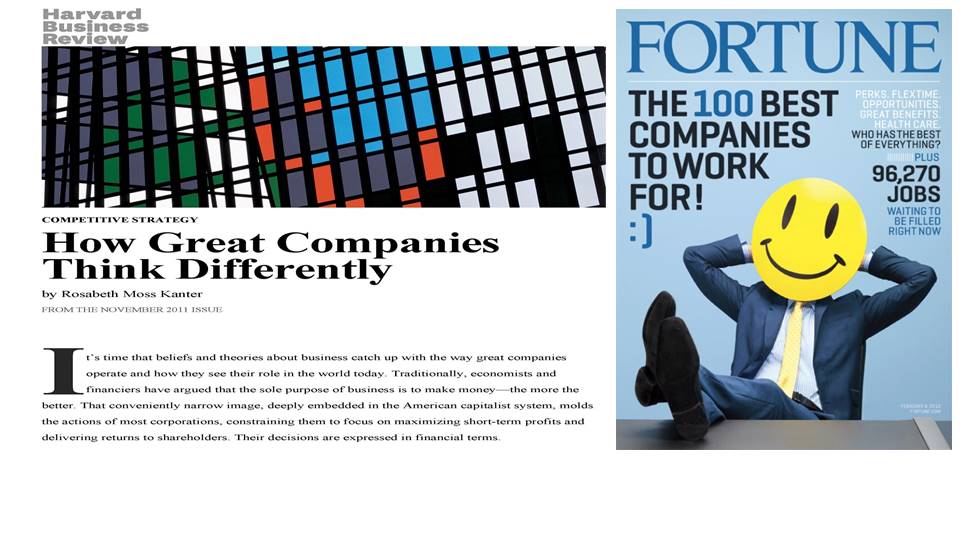 The Road Map to Giving Back points to a destination that most organizations have difficulty navigating to. We know that giving back makes us feel better, but when we try to link what we do from the heart and make the business case for its value to an organization's bottom line; the route gets fuzzy. So it is fair to ask; is giving back really good business? To answer that question for yourselves, I hope to point your Corporate GPS at:
WHY giving back is so important to your Business Success
HOW to fire-up a "Full-Throttle Goodness" culture that Matters and Makes a Difference
WHAT occurs when you go "Kick Stands Up"  with Community Give-Back Efforts
Let's Start with WHY?
Just because you're going flat out, doesn't mean you're on the right road.
I spend a lot of time working with CEOs, HR Managers and Small Business Owners on a variety of company growth issues. Two are ALWAYS at the top of their business bucket lists; employee engagement and customer loyalty.  Most organizations that are not making any real headway in either area all have one thing in common – they are stuck in "Culture Neutral" just riding along in the same direction at the same speed they've always moved to.
To Go Full-Throttle you have to shift to a different gear. Think of your business like a motorcycle. A motorcycle isn't something you have; it's something you do. When we ride, we lean into every twist and turn. We see more; feel more, we are more.  It's all about the experience.
It's the exact same thing when it comes to your business. You should always be looking for ways to create meaningful engagement for your employees and customers. Each of your routes will be different, but your destination is the same –a place your employees and customers arrive together; stand back, take in the view and express a collective "WOW!" You want THAT Ride to be something you do with PASSION, POWER and PURPOSE.
"Giving Back is the FUEL that powers MEANINGFUL Influence and Engagement"
For customers:
It builds respect and reputation in the community (awareness)
It shapes meaningful business connections and networking opportunities (influence)
For employees:
It stimulates employee morale and commitment (loyalty)
It develops fresh skills, knowledge and expertise (development)
Think about it. How much more bottom-line business impact could you generate if your organization was recognized by both customers and employees alike as a place that gives back, changes lives, builds community, and educates and elevates everyone who comes in the front door? How difficult would it really be to make some small changes today that tell a more compelling story about who you are and entice more people to RIDE along with you?
Many organizations already provide opportunities for their employees and customers to participate in giving back. They all FEEL pretty good about their efforts. Few, however, can answer how those efforts positively impact the business bottom line.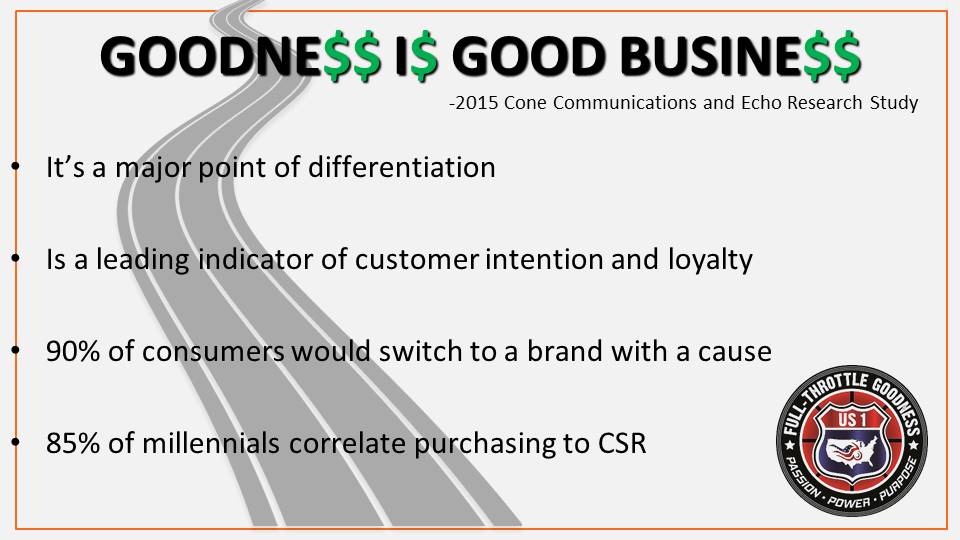 GOODNE$$ MAKE$ GOOD BUSINE$$ $EN$E
According to the 2015 Cone Communications and Echo Research Study; consumers feel a personal accountability to address social and environmental issues and actively look to companies as partners in making progress to give back. Cause Marketing is now BIG business:
It's a major point of differentiation
Is a leading indicator of customer intention and loyalty
90% of consumers would switch to a brand with a cause
85% of millennials correlate purchasing to CSR
The 80 million members of the millennial generation (born 1977 to 1995) represent 25% of the U.S. population and more than $200 billion in annual buying power
Write these words down; differentiation, intention, loyalty, purchasing. These are the undeniable bottom-line benefits from developing a Give Back culture in your business. Simply stated, Full-Throttle Goodness becomes your Route to Stand Out.
NOW you know WHY giving back is so important to your Business Success. Let's shift gears and look at HOW to fire-up a "Full-Throttle Goodness" culture that Matters and Makes a Difference.
A Give-Back Program with IMPACT plays to your PASSION. You will need to know what's in your tank because some of these efforts require actual work: making and serving meals, volunteering at a service project or actually building something; while others are more easily accomplished through fundraising or collections and donations of supplies.
FIND YOUR "RIDE!"
It's important to find something that best suits your unique goals and capability. Make it fit, so what happens on the road doesn't just stay there. Here's HOW:
Involve your team from the very beginning
Let your employees drive the Emotional Engagement
Champion a Cause
Decide on Goals and Strategies
Specific, measurable and balances Time, Treasure and Talent
Prioritize Giving Back
One-offs and drop-offs do not make for good sustainable Give-Back Culture
A Give-Back Program with IMPACT creates a powerful identity, renewed purpose and sense of accomplishment. Purpose-filled work makes your people more productive and your customers more loyal to your brand. It connects everyone involved to Passion-Power-Purpose.
Make it:
Inclusive: Everyone participates and contributes
Meaningful: Influences and Inspires
Personalized: Matches YOUR culture and strategies
Activate: Supports and Builds Brand Recognition
Cool! (never underestimate the Power of FUN!)
Transferable: Adaptable and consistent practice
Now that you've got the WHY and HOW throttled up; let's ROLL to WHAT occurs when you go "Kick Stands Up" with Community Give-Back Efforts.
Helping others facing Life's BIG Challenges = Provides New Perspective
Corporate Identity is much bigger than just transactions = Creates Common Purpose
Giving Back + Engaged Employees = Thriving Workplace Culture
Meaning Making = REAL Value and Long-Term Focus
The Juice is Worth the Squeeze! The business outcome (the juice) assessed against give-back effort (the squeeze) makes bottom-line, good business sense. It's a surefire way to increase engagement and satisfaction among ALL who participate; it creates a neutral space for employee training at a low cost and EVERYONE involved feels a real sense of purpose and meaning. All across the Business World, this message is taking hold.
BOTH The Harvard Business Review and Fortune Magazine have written extensively on the IMPACT of Giving-Back as a training ground for leadership, accountability and dedication. Companies that give back provide a powerful way for their employees to develop team skills like problem solving, mentoring and communications, all of which are instrumental in a thriving business environment.
Whichever ROUTE you choose, make sure to TELL YOUR STORY. Today, it's quick and easy to promote just about anything. Social media has amped the velocity in which everything is instantly available and virally on-demand with a simple click. That makes distinguishing REAL VALUE and SUBSTANCE from the torrent of random images, casual observations and cultural junk constantly spewing forth a huge challenge for businesses who want to tell a compelling story.
Here's a little-known fact; Bikers invented Social Media. We've been sharing road stories, creating hash tags (we call them rockers) and going viral by wearing vests (known as cuts-short for cut-offs) long before Al Gore invented the Internet.
Fortunately you don't need a cut; although almost every organization has its own name tag or shirt. There are many Social Media platforms available to #TellYourStory! Continuous new content and engagement opportunities are necessary to grow a vibrant community and create the buzz around your organization's give-back efforts. Choose one that makes sense; define your message and don't underestimate the effort required. Dedicate someone to keep conversation on-going and engage your audience.
Did I mention that GIVING BACK IS FUN!
Companies may not believe in FUN, but neuroscientists do! A process called neurogenesis occurs when the brain is on positive and HAVING FUN gets it there. Having FUN stimulates cognitive capacity; including intelligence, creativity, energy levels and memory improves. Even business outcomes improve; studies showed people having FUN were 37% better at sales than at everyday neutral.
When all is said and done, a lot more is said than done
Bikers refer to cars as "cages." We see the people strapped inside those steel cubes as boxed in; confined and numbed. Disconnected. That's exactly how most organizations operate; a complete time killing, soul sucking pathological adherence to traditional processes; especially and most unfortunately, when it comes to engaging the POD – the people you "ride" with every day.
There are lots of things you can't control when you ride. You can't control the environment. You can't control prices. You can't control obstacles in the road. But you can control HOW you ride, WHO you ride with and WHERE you want to go. Choose to help your customers and employees MAKE A DIFFERENCE in the communities where you live, work and meet. Enlist their time, talent and treasure into what my friends in the Marine Corps call a "Force Multiplier for the Greater Good."
Bottom line. Doing good is good business. The people you do business with, both customers and employees, matter. Throttle Up a Full-Throttle Goodness culture and bring as many of them as you can along for an amazing RIDE filled with Passion, Power & Purpose!