Day 10: Norfolk to New York City. 376 Miles
Passed through five states today, beginning with some terrific views of the eastern Shore of Virginia. Paid my FIRST $13.00 toll first of the trip, riding over the Chesapeake Bay Bridge (and through the tunnel) for some great views of the coastline. Then it was on into Maryland and Delaware. Very pretty countryside.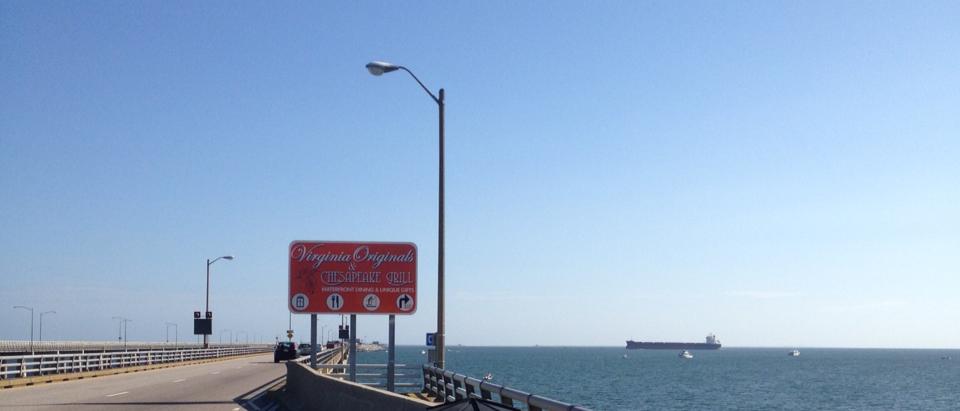 And then a LONG day of construction delays found me. Not sure why construction is being done on Sunday, but every mile offered some new challenge, either a change in route or long, slow, standstill traffic. Not fun.
New Jersey. Spent a lifetime on the New Jersey Turnpike, which I highly recommend avoiding at ALL costs. Construction + slow-moving traffic + HEAT = the longest driving day of my life. Thank goodness for the roadside service areas. Never so glad to leave a state.
Arriving in New York was welcome relief. Drove over the Verrazano Bridge and the Brooklyn Bridge. I HIGHLY recommend The Best Western Plus Seaport Inn Downtown on Peck Slip. Great property and my room had a large balcony with a terrific view of downtown. A very nice surprise.
Since I was about 2 hours overdue in arriving (New Jersey Turnpike), I just had enough time to make it down to the 9-11 Memorial Site. This is a MUST-SEE for all Americans, and "Powerful" is the only comparable word for the experience standing at Ground Zero. This national tribute of remembrance pays honor to the men, women, and children killed in the terror attacks of September 11, 2001 and February 26, 1993.
12 years later and I say many people crying and emotional. I had the same feelings, and I was proud to be standing on this sacred ground representing my family, my country and the Cause which The Full-Throttle Leadership Ride is supporting. I'll come back here again.
Day 10 is dedicated to the nearly 3,000 people killed in the terror attacks of September 11, 2001 at the World Trade Center site, near Shanksville, Pa., and at the Pentagon, as well as the six people killed in the World Trade Center bombing in February 1993. Their name, along with those who were killed in the 1993 attacks, are inscribed into bronze panels edging the Memorial pools, a powerful reminder of the largest loss of life resulting from a foreign attack on American soil and the greatest single loss of rescue personnel in American history.
Day 11: New York City to Boston. 230 Miles
Made an unscheduled stop in Boston and very glad I did. After the long ride to New York, I needed a shorter day. It ended up being one of the best visits of the Ride.
Stayed in another interesting hotel, The Best Western Plus Roundhouse Suites. This unusual, round building was built in the 1800's as a reservoir for the natural gas used to light the street lamps of Boston. The staff was terrific and the room was a winner. I like finding these out-of-the-way accommodations.
Immediately headed off to the John F. Kennedy Presidential Library, dedicated to the memory of our nation's thirty-fifth president and to all those who through the art of politics seek a new and better world. Anyone who knows me, knows that JFK is one of my leadership heroes, so visiting this museum on the FTLR was something special. The Museum has some interesting special exhibits, including the Mercury Freedom 7 capsule which carried U.S. Navy Commander Alan B. Shepard, Jr. into space on May 5, 1961, the first American manned adventure into space.
Also a must-see is "To the Brink: JFK and the Cuban Missile Crisis," a look back from the 50-year mark at excerpts 43 hours of secret recordings relating to the Cuban Missile Crisis, as well as original documents, artifacts, and photographs from the National Archives relating to this milestone 20th-century event.
Later, I went downtown to the site of the recent Boston Marathon bombing, and though many of the flower and candle tributes have been removed, there are still some mementos remaining, including one iron fence surrounding a local church with hundreds of colored ribbons left by locals and visitors. each ribbon had something written on it, a prayer, a name, a remembrance.
The past two days in New York and Boston has reminded me why America continues to thrive in the midst of all our challenges and often very petty divisions. There is much that tries to divide and defeat us, but the American Spirit of helping one another, standing together and identifying as Americans FIRST, will always see us through dark days and divisions.
Today, was a great day.
Day 11 is dedicated to the members and families of my home HOG Chapter, the American Eagle HOG Chapter in Corinth, Texas, who have served and are serving in the military. Thank You for your service; Don Pearce, Ray Caul, Jim Stewart, Tony Turner (Tammy Turner's son), Jo Anne Tinsley Mim's brother (Vietnam Vet), and anyone else who I might have missed.
Day 12: Boston to Niagara Falls. 470 Miles
Today I am reminded of one of my favorite singer-songwriters, James Taylor. His song, "Sweet Baby James" is playing, appropriately, on the IPhone as I wing my way from Massachusetts to New York
Now the first of December was covered with snow
and so was the turnpike from Stockbridge to Boston. (RODE IT!)
Though the Berkshires (RODE THROUGH THEM!) seemed dreamlike on account of that frosting, with ten miles behind me and ten thousand more to go. (I CAN RELATE!)
There's a song that they sing when they take to the highway,
a song that they sing when they take to the sea,
a song that they sing of their home in the sky, maybe you can believe it if it helps you to sleep, but singing works just fine for me.
This part of the country is green, deep, rich and growing. The mist rolls in during the morning and every smells wet and alive. This is a good home. Worth fighting for.
Had to pull out the rain suit for the last 45 miles to Niagara Falls. Putting on the rain suit, especially on the side of the highway as you watch a storm brewing somewhere down the road in front of you, is quite frankly, my least favorite part of riding a motorcycle. It's a pain, pure and simply. But necessary.
Like so many aspects of Leadership, doing what we have to do – especially the inconvenient or disruptive – is what separates the Best from the Rest. Who knew my rain suit could inspire such lessons?
Arrived in Niagara Falls, NY and headed – where else? To the Falls. I've been here before, the last time with Wendy, and our dear friends Betty and Gene Garrett back in August 2002 (although we saw the Falls from the Canada side). The view here never fails to inspire. Mother nature is one Awesome Lady!
Staying an extra day to R&R, both for me and the bike. Thanks to the staff at American Harley Davidson for the friendly service and the FIRST oil change of the FTLR.
Tomorrow, the Ride continues West to Chicago.
Day 12 is dedicated to Boot Girl, Char Fontan Westfall, and her husband Jacques Fontan (Navy SEAL), one of the 19 men who lost their lives in Operation Red Wings on June 28, 2005 as described in the book "Lone Survivor" by Marcus Luttrell.
I did my Boot Campaign volunteer briefing with Char, and although I didn't know her story at the time, I am even more moved by her sacrifice and continued service to our troops. It's what the Full-Throttle Leadership Ride is all about. Read her story,
Operation Red Wings: A Widow's Perspective at: #‎IAmBootCampaignhttp://bit.ly/CharJacques