I want to begin today's post with a story, an experience I had with two different people along the Full-Throttle Leadership Ride.
The first was a man I met in NYC, interestingly enough, at the 9-11 Memorial. As I've said in previous posts, my Boot Campaign military boots, which I've worn every day on this adventure, are a sure icebreaker. Most people assume I'm in the military, and when I tell them the story behind the Ride, the response is always a good one.
This was different. I explained the Cause, The Campaign and the Ride, and while the gentleman listened intently, at the end he said he couldn't support the Ride because he didn't support the War in Iraq and Afghanistan. I have to admit I was a bit taken back by his response, but I said this was about active duty Soldiers, Sailors, Airmen, Marines, First-Responders and our Veterans, individual Americans who deserve our respect and support.
I didn't make a dent.
The second experience occurred just outside San Diego at a rest stop. Another man (this one wearing a Harley t-shirt so I knew he was cool!) approached me, asked about my bike and where I was going. I again explain the Ride, the Boots and the Cause. He then told me his son was serving in the Army overseas. The man was wearing his son's Army ring, which he said he puts on first thing in the morning along with his wedding ring.
We talked for 20 minutes about motorcycles, the military, America and leadership; and at the end this man offered me gas money for the trip. His son is serving on our behalf in harm's way and his father is offering me gas money – amazing. Of course, I declined, thanked him for both the offer and more importantly, his family's service to our country, and drove on to San Diego.
I've thought about these two experiences many times, contrasting the "leadership" capability of each man. One just could not see past the politics which are used to divide us as a people and a country. To his argument, I've never met a service man or woman who likes war either, so we hear you, brother. The other supported his son's decision to serve in harm's way and was very proud to be an "Army Dad."
One man is pretty sure of his outcome. The other prays for a good one every day.
Where do YOU stand? If you want to help our military and veterans, here's the link to the FTLR: Full-Throttle Leadership Ride. Every penny goes to the Boot Campaign to help their amazing work on behalf of American Heroes like the young man whose Dad I met at a rest stop near San Diego. I hope you will join me in supporting a fantastic organization and a great cause.
Day 22: Morro Bay to San Diego. 351 Miles
Left early headed down US-101 passing through San Luis Obispo, Santa Maria and Lompoc. More fertile growing country, vineyards, strawberries, peaches, dates across acres of farmland. Took CA-154 up through the Los Padres National Forest past Lake Cachuma. What a view!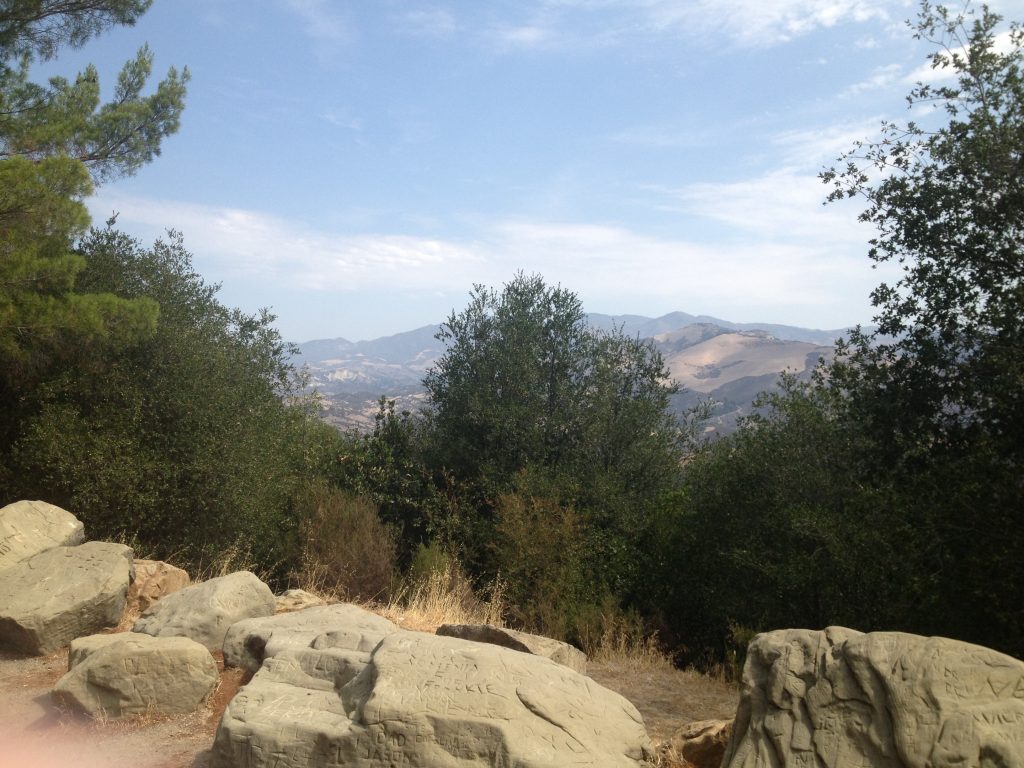 Back on US-101 through Santa Barbara and into Ventura (couldn't help singing America's 'Ventura Highway") and onto my first BIG city in days – Los Angeles. Drove through North Hollywood near the set of Sons of Anarchy (Teller Morrow Automotive is on Radford in case you want to visit). Back on the freeway and onto I-5 through Anaheim and Irvine before making it back to the coastline for the drive into San Diego.
Day 22 is dedicated to all the Army, Navy, Air Force, Marine, Coast Guard and First Responder families. We send you our love, respect and prayers. God Bless You.
Note: Took an extra day off in San Diego for some R&R as I prepare to turn toward home and the last week of the FTLR. Did an interview with Channel 10 News which aired on the 6 pm broadcast. Thanks to San Diego Boot Girl Char Ekoniak, San Diego Harley-Davidson owner New York Myke and reporter Bob Lawrence for helping get out the word on the Full-Throttle Leadership Ride. The link to the interview is: HERE