I just spent the last month riding the perimeter of the country on a motorcycle!
My Boot Campaign Desert ALTAMA Army boots were on my feet for all 32 Days, 34 States, 13,000 Miles, and if that sounds like a lot of time with your butt on a motorcycle seat, it is – almost 300 hours of riding. The boots are now officially retired. The work continues.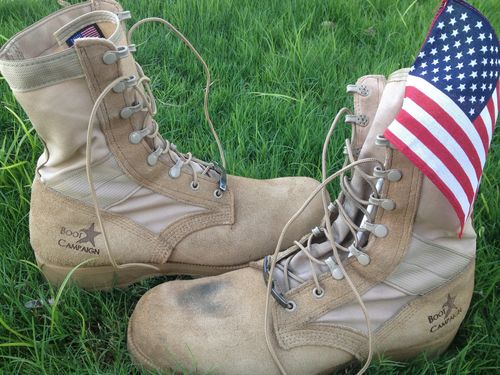 There are a lot of ways to spend your time on a motorcycle; listening to music, stopping to take photos, talking to folks you meet along the way, and I did all of those. Listening to music, however, was the one constant every day of the journey.
Remembering the "Purpose behind the Passion" – to raise awareness and support for our military and veterans on behalf of the Boot Campaign – I discovered a song that reaffirmed why I was out here. It became the "theme song" for the Ride, always a reminder of the many ways we all can become more aware of the challenges our service men and women face when coming home.
That song is "Brothers in Arms" by Dire Straits. The lyrics are:
These mist covered mountains
Are a home now for me
But my home is the lowlands
And always will be
Someday you'll return to
Your valleys and your farms
And you'll no longer burn to be
Brothers in arms
Through these fields of destruction
Baptisms of fire
I've witnessed your suffering
As the battle raged higher
And though they did hurt me so bad
In the fear and alarm
You did not desert me
My brothers in arms
There's so many different worlds
So many different suns
And we have just one world
But we live in different ones
Now the sun's gone to hell and
The moon's riding high
Let me bid you farewell
Every man has to die
But it's written in the starlight
And every line in your palm
We are fools to make war
On our brothers in arms
This song was especially meaningful to me after meeting the many active duty military service members and veterans on this Ride, including sitting down with WWII veterans Bert Stolier and Tom Blakey in New Orleans to talk about leadership and service, buying a homeless Vietnam veteran lunch in Coeur d' Alene and meetings with military families all across the country. It inspired me to keep riding after reading about the death of Army veteran Wade Christiansen, 23-year-old who took his life on May 29 in the middle of main Street in Bozeman, Montana.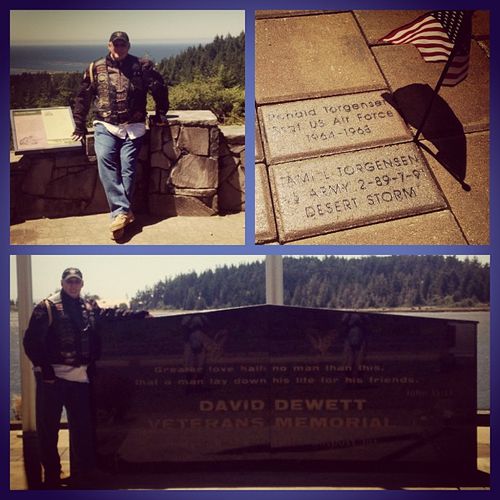 We are, truly, fools to make war on our brothers in arms -and we do this if we fail to seize every opportunity possible to say THANK YOU to the men and women who have served, are serving and will serve in our Armed Forces. Why is this so important?
From the Boot Campaign web site:
Why We Do This

It doesn't matter if you don't have someone in your family who has ever served in the military. And it doesn't matter what your stand is on the "war" (I had a few interesting discussions on this very subject while on the Ride). What matters is this: there are fellow Americans who believe that service to their Country is the highest calling. They serve and sacrifice much, and we owe them respect, honor and support.
Our highest calling is to remember and serve OUR "Brothers in Arms."