Day 25: Junction to San Marcos. 150 Miles
Short post for today's ride. Continued down I-10 toward San Antonio and a rendezvous with my family. Haven't seen Wendy in the kids in over a month, so just hanging out with them for a day was a welcome relief from the road. I posted on Facebook later about eating breakfast with my wife the next morning and not fully appreciating that simple joy. 30 days is a long time to be away from your family – imagine a full military's tour separation.
A major focus of the Boot Campaign is Military Families. As always, if you want to help them in these important efforts, you can make an impact at http://www.crowdrise.com/full-throttleleadershipride
Today's Ride (and salute!) is dedicated to the men and women at Joint Base San Antonio, the largest base organization in the Department of Defense, comprising three primary locations at JBSA-Fort Sam Houston, Lackland and Randolph, and more than 200 mission partners. JBSA services more DoD students and active runways than any other installation, houses the DoD's largest hospital, and supports more than 250,000 personnel including 425 retired general officers.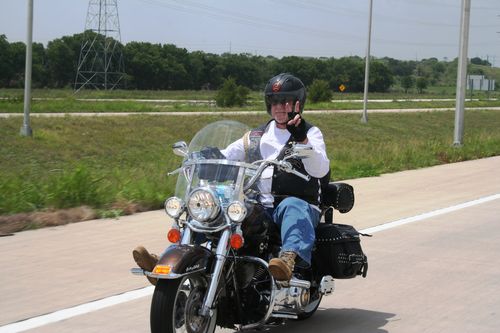 Day 26: San Marcos to Home. 275 Miles
Not much to say about this day except by the time I hit I-35 headed through Fort Worth, my heart (and bike) was racing for Home. Fort Worth, your skyline never looked so good – as did all the familiar sites – Alliance Airport, Texas Motor Speedway, and finally, the exit sign for Argyle.
I'm taking a few days OFF THE BIKE to sleep, soak in my own tub and get acquainted with the daily goings on at Casa de' Foster.
Today's Ride is dedicated to my Family: Wendy, Aubrey and Conor. Thank You for allowing me to take this amazing journey. I missed you!