"Can I get a Roll Tide?"
Justin Crisler loves the Alabama Crimson Tide. He chose to express his team spirit on social media, so the Huntsville man created the Facebook page, "Can I get a Roll Tide?" featuring a photo of a simple red t-shirt he designed with the signature phrase known to every Tide fan. He was just hoping for a few 'Likes" from fellow Tide fans.
He had no idea of how big things were about to get.
Minutes after that initial posting, Crisler received an email from Austin Strickland, a contractor working at a post office in Afghanistan, asking for a care package filled with his shirts for soldiers from Alabama stationed there. With no inventory in stock and refusing payment, Crisler immediately printed up 35 shirts and mailed them off. Months later, more than 1,700 T-shirts have been shipped around the world, free to active-duty service men and women and veterans.
"I didn't know something as simple as a t-shirt could mean so much to soldiers; the whole thing just blew me away," says Crisler, who now sells to the public and accepts donations to help pay for the shirts which he provides at no cost to troops serving around the world through his former Facebook page, now transformed into the non-profit organization, Tide for Troops.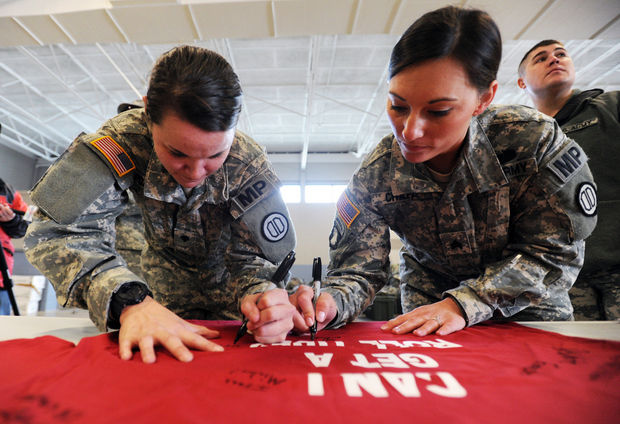 Janna Poague and Cassandra Chapa of the 128th MP Company, sign a shirt as a thank you gift for Justin Crisler, who donated 180 t-shirts to the unit before they deployed to Guantanamo Bay last year.
The journey from small idea to huge impact hasn't been easy. Early on Crisler was receiving so many requests and spending his own money just to ensure every military request was fulfilled. Overwhelmed, he said a prayer asking for faith and a way to continue. The next morning, he had another idea and immediately started buying autographed Alabama memorabilia to auction on his Facebook page. Within 24 hours he had raised $3,000, almost covering the cost of the hundreds of shirts he had already sent overseas.
I have an idea almost every day; this one really took off," says Crisler, who now offers shirts from every team in the Southeastern Conference (SEC); including Auburn (Can I Get A War Eagle?), Arkansas (Can I Get A Go Hogs?), Mississippi State (Can I Get A Go Dawgs?) and Vanderbilt (Can I Get A Go 'Dores?). As word spreads more schools are coming onboard every day. Earlier this year, Clemson coach Dabo Swinney helped design a t-shirt for Tigers' fans.
Today, Crisler, who never served in the military, is overwhelmed at the response to his t-shirt idea.
"The passion for what we were trying to do kicked in and really connected with so many people; it's crazy. These t-shirts create an emotional attachment for the fans to their favorite team, but it also is helping bring a piece of home to the troops and that means so much to me."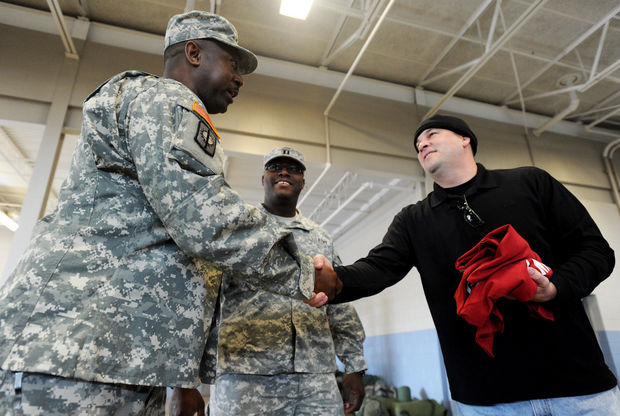 Justin Crisler gets a thank you from 1st Sgt. Robert Larkin and Capt. Johnnie Scott.
Tide for Troops will be on-site this Saturday at the Iron Bowl, the annual in-state clash between Alabama and Auburn. For fans on both sides, this rivalry game – perhaps the biggest in all college sports – takes on an even greater meaning this year. The Crimson Tide are the unbeaten, top-ranked team in the country and winners of the last two national championship titles while Auburn, under new head coach Gus Malzahn has risen all the way to No. 4 in the BCS Poll and is looking for a huge upset at home.
This will be BIG, no doubt. Fans will cheer as players take the field. Team spirit will run at a fever pitch. It has all the makings of a classic college football game. And somewhere, in a place far away serving their country, a soldier will also be watching; perhaps wearing a little piece of home because of a small idea Justin Crisler envisioned and acted upon. It's a path to service he hopes others will follow.
"If you're passionate about something, there's no stopping you. Just do what you can do, because you never know what it might lead to. The feeling you get is absolutely amazing."
For more information or to make a donation, visit Crisler's Tide for Troops Facebook Page or email to tidefortroops@gmail.com.