Day 18: Coeur d' Alene to Portland. 397 Miles
After and extra day off the bike, it is time to get back on the Ride.
Weather forces a change in route as rain and cloud-to-ground lightning in/around Seattle make it necessary to detour South, so if off to Portland. Cross out of Idaho and into Washington within minutes, and I know its going to be a good ride. Nothing but sunny skies.
Stopped at Rattlesnake Mountain Harley-Davidson in Kennewick, WA and left lots of information and flyers on the Boot Campaign. The H-D HOG Chapters and sponsoring Dealerships along the route have been very supportive of my Ride. Bikers get it!
Not far from the Dealership, I saw an interesting piece of sculpture and had to investigate. Glad I did. It was a 35-foot-tall remnant from the twin towers made from three steel beams that once were part of the World Trade Center, and erected as the city's own 9-11 Memorial. The artifact, weighing nearly 6,000 pounds, was obtained by the city from the Port Authority of New York & New Jersey.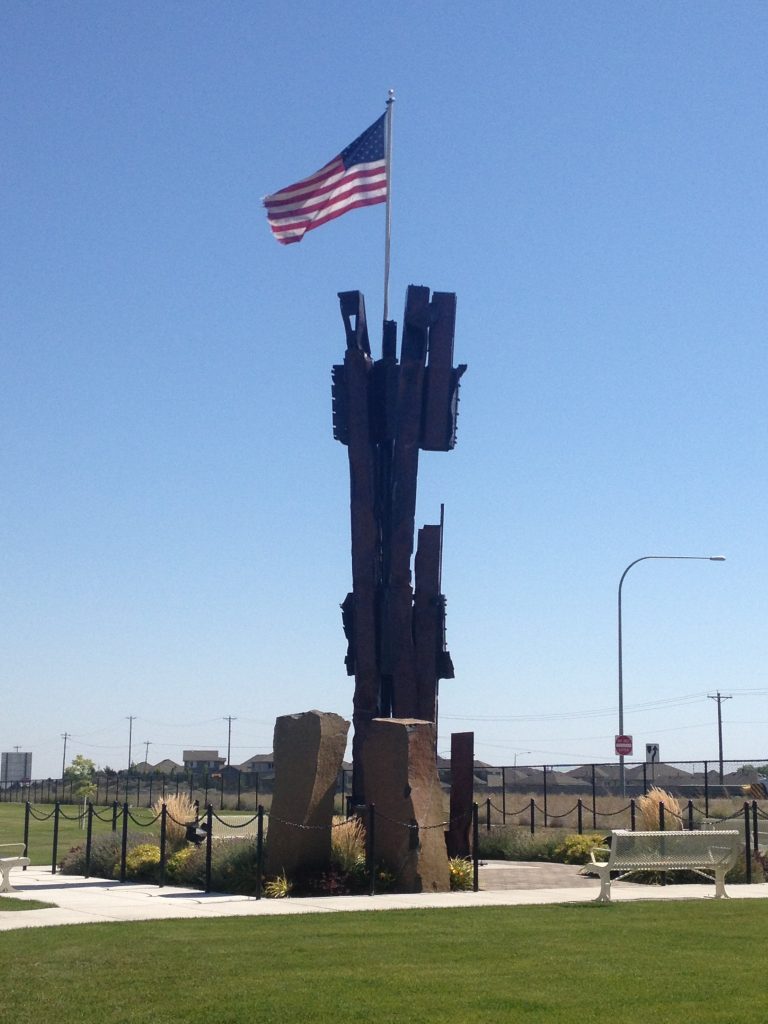 Having just recently visited Ground Zero in NYC and seen the 9-11 Memorial there, it was another of those "chicken skin" moments I keep experiencing while on this amazing journey.
Shortly after I was headed down I-82 toward Oregon, crossing over Lake Umatilla on the Interstate 82/395 Bridge near McNary Dam. I've seen some beautiful parts of this country, but I wasn't prepared for the views about to come my way along the next 177 miles on I-84. A spectacular section is the Columbia River Gorge, a 4,000-foot-deep canyon of the Columbia River which stretches for over 80 miles winding west through the Cascade Range.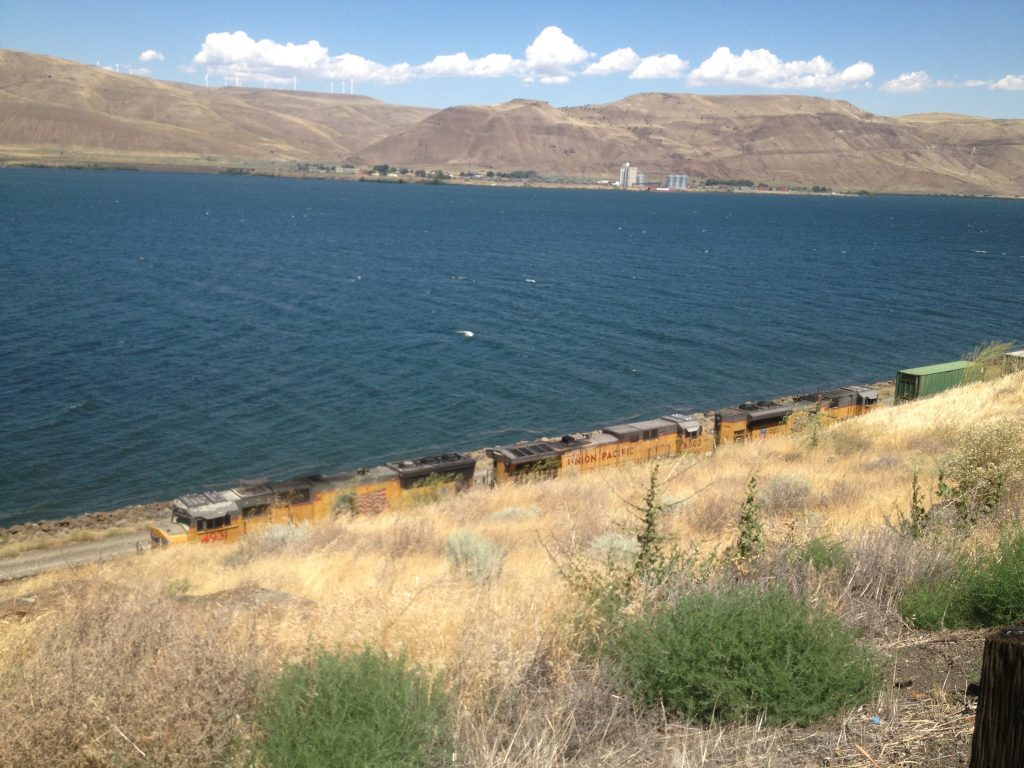 Picture this: deep blue winding river waters on the right and towering green mountains on the left forming the boundary between the Washington to the north and Oregon to the south. As I rode along this awesome creation, I remembered this verse from the Bible:
"Who has measured the waters in the hollow of his hand, or with the breadth of his hand marked off the heavens? Who has held the dust of the earth in a basket, or weighed the mountains on the scales and the hills in a balance?" – Isaiah 40:12
It's exactly like the song says; we really do have spacious skies and amber waves of grain. I've seen purple mountain majesty and fruited plain for the past few weeks on this Ride along the U.S. Perimeter. What a privilege to see all of this.
And I was just getting started. Just down the Columbia River Highway is The Dalles, a spectacular historic town located between Mt. Hood. and Mt. Adams. The Dalles has a unique place in America's pioneer history; it was the end of the overland Oregon Trail, and Lewis and Clark camped here during their journey to explore the Louisiana Purchase territory in 1805-1806.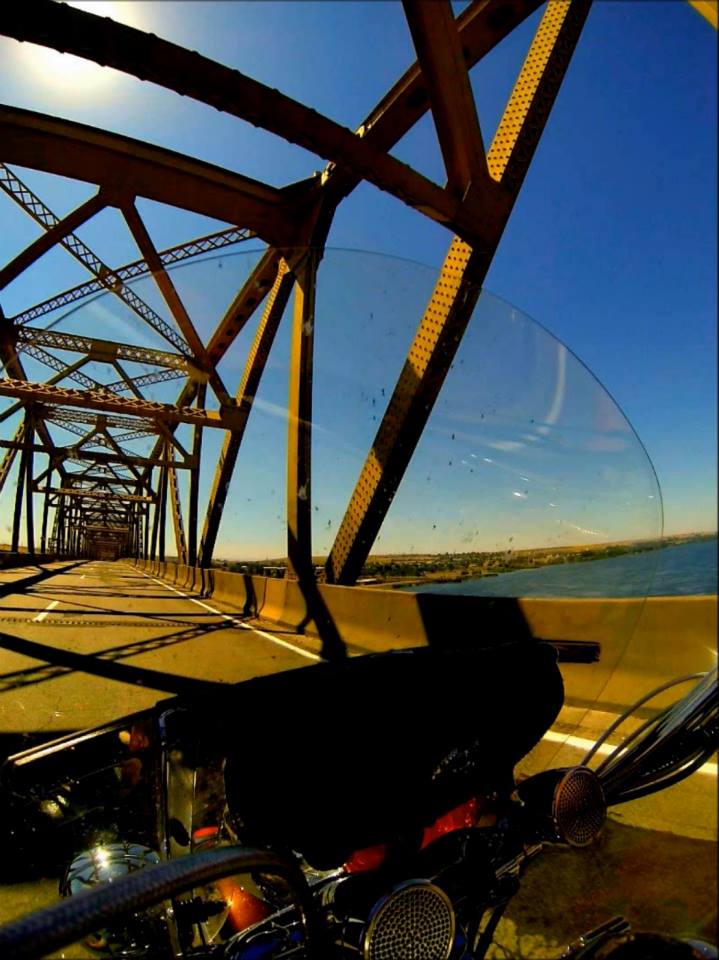 A word about Lewis and Clark. I've seen signs along the highway noting their passage through North Dakota, Montana, Idaho, Washington and Oregon. Now, I've ridden about 1,500 miles through those states, and I can't even imagine the TON of miles through some pretty rough terrain those guys WALKED on their little cross-country trek. Amazing. (Just so you know, Aubrey and Conor Foster; there's a written report to Dad about their expedition in your future!)
Rolled the last few scenic miles into Portland. Another memorable day AND – The full-Throttle Leadership Ride has made it to the West Coast!! Will turn south tomorrow for Coos Bay!
Day 18: I'm going to make a departure from my daily dedication to a service member or veteran. Today is dedicated to all of you who have supported The Full-Throttle Leadership Ride with your thoughts, prayers and contributions. "A journey of a thousand miles begins with a single step," said Chinese philosopher Lao-tzu. My journey began as a bucket list item, but became so much more than I could have ever imagined when I discovered The Boot Campaign.
To all of you who have helped me match my passion for riding my motorcycle with a purpose to honor and serve our military and veterans, THANK YOU. Each of you brought me this far, and I'm looking forward to seeing you soon back Home.