Day 15: St. Paul to Bismarck. 449 Miles
The day started gloomy with heavy rains throughout the area. Thought I might have to postpone a day, but the skies cleared just enough for me to chance a run with a late departure. The overcast skies were a perfect setting for all the lakes in Minnesota, and being a gambler, I left without putting the rain suit on. This time, the gamble paid off. For most of the Ride, other motorcycles have been few and far between, but once I hit North Dakota, I started seeing LOTS of other bikers. I finally feel like I'm part of the community. Stopped for lunch in Fargo. "Oh, Yah!" Just couldn't help listen for that unique dialect from the movie of the same name, and, "Oh, Yah!," they do talk like that. Pretty funny.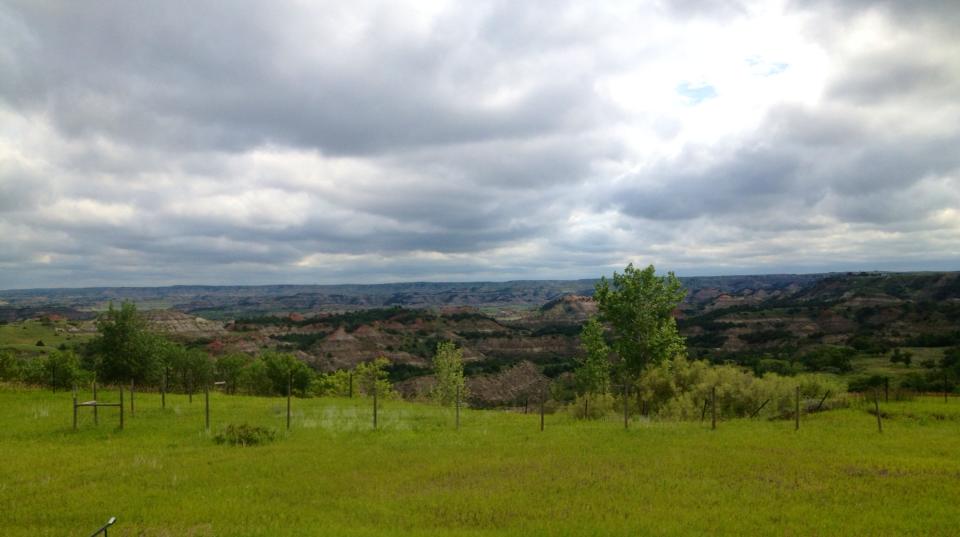 A bit of Road Trivia: Fargo is home to the Roger Maris Museum – signs along the highway call Roger "The Unquestioned Home Run King" – as he hit his sixty-one home runs in 1961 without benefit of performance enhancing drugs; setting a new major league record at the time by breaking Babe Ruth's previous mark of 60 hit in 1927. The day that started so dreary ended up sunny and warm. Maybe the weather will continue this way as I make my way West.
Day 15 is dedicated to the too-many homeless veterans living on the streets of the country they served to protect. America's homeless veterans have served in World War II, the Korean War, Cold War, Vietnam War, Grenada, Panama, Lebanon, Persian Gulf War, Afghanistan and Iraq, and the military's anti-drug cultivation efforts in South America.Nearly half of homeless veterans served during the Vietnam era. Two-thirds served our country for at least three years, and one-third were stationed in a war zone. YOU can and MUST do something about this. Find out how at www.bootcampaign.com
Day 16: Bismarck to Billings. 427 Miles
So much for the weather hopes. Another rainy, chilly morning and another delayed departure. For the first time on the Ride, I pull on the layers and head toward Montana. Continue to see other bikers, also bundled up, which makes the gloomy skies a bit easier to take. Then I pass several people on bicycles riding along the highway , so I'm not doing any more complaining about the weather. Imagine being caught in a thunderstorm in the middle of nowhere on a bicycle? Rode along The Enchanted Highway where there are some unique sculpture pieces which dot the landscape. Pretty cool art. Also passed through The Little Missouri National Grasslands and the Theodore Roosevelt National Park. Beautiful.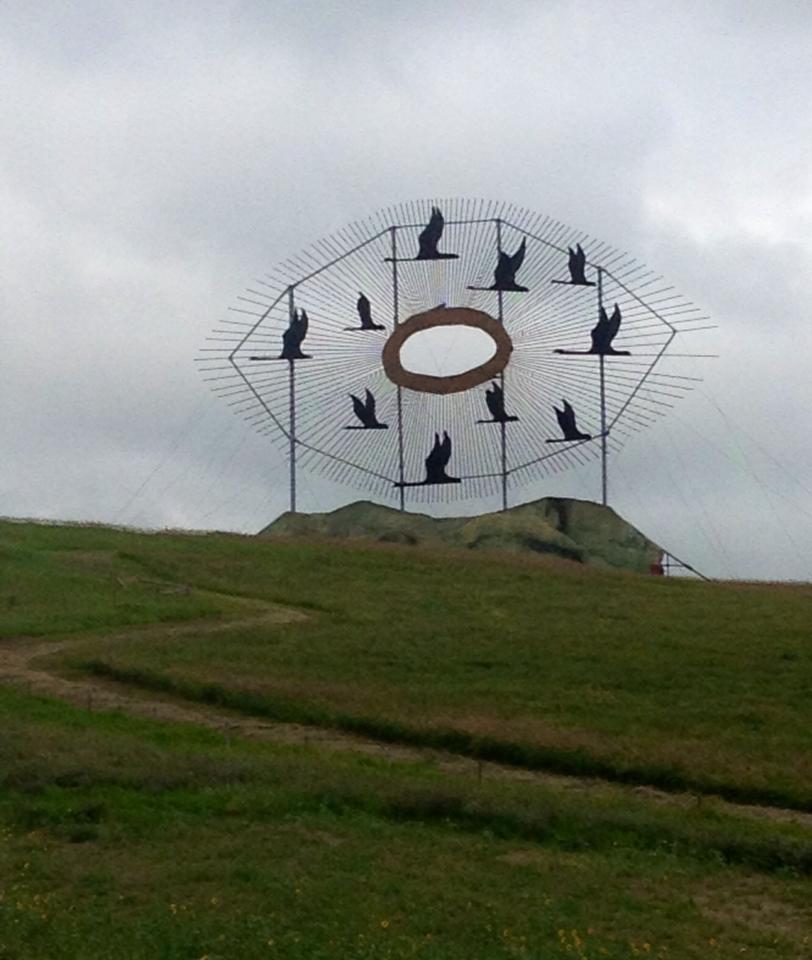 MONTANA! This really must be God's Country, because as soon as I crossed the state line, the skies cleared, the sun came out and it became one beautiful day. And then came the good stuff. Rode over the Yellowstone River, The Powder River and The Tongue River, which to a boy who grew up reading stories about Buffalo Bill Cody, George Armstrong Custer, Crazy Horse and Chief Black Kettle, conjured up memories of frontier battles and the Wild West. Passed close to the Little Bighorn Battlefield and the town of Custer. The riding in this state will truly take your breath away. A bit of Road Trivia: Just outside Billings is a rock formation called Pompeys Pillar. In July 1806, William Clark (Lewis and Clark Expedition) passed through the Billings area and carved his name and the date into the rock, leaving the only remaining physical evidence of the expedition that is visible along their route. He named the place Pompy's Tower, naming it after the son of his Shosone interpreter and guide, Sacajawea. In 1965, Pompeys Pillar was designated as a national historic landmark, and was proclaimed a national monument in January 2001.
Day 16 is dedicated to U.S. Marine and Afghanistan War Veteran, Alex Minsky. In 2009 while serving in Afghanistan, his truck rolled over an IED, which ultimately resulted in the amputation of part of his right leg. You can see his story of struggle and success at ABC News: http://youtu.be/kkbRCqxHxfQ
Day 17: Billings to Coeur d' Alene. 520 Miles
A bit of a departure from my normal posting. As I was eating breakfast at the hotel this morning, I opened up today's issue of The Billings Gazette to find a front page story about a local boy and Army veteran, 23-year-old Wade Christiansen, who took his life on May 29 in the middle of main Street in Bozeman, Montana. The story, entitled " Wounds of War: Injured soldier's death by suicide reflects national issue" was a powerful reminder of what I'm doing on the Ride along the Perimeter of the U.S., and why the work of The Boot Campaign is so very important. Nationwide, about 950 veterans attempt suicide ever month, with two-thirds succeeding. According to a national Veterans Affairs study, 22 veterans kill themselves every day.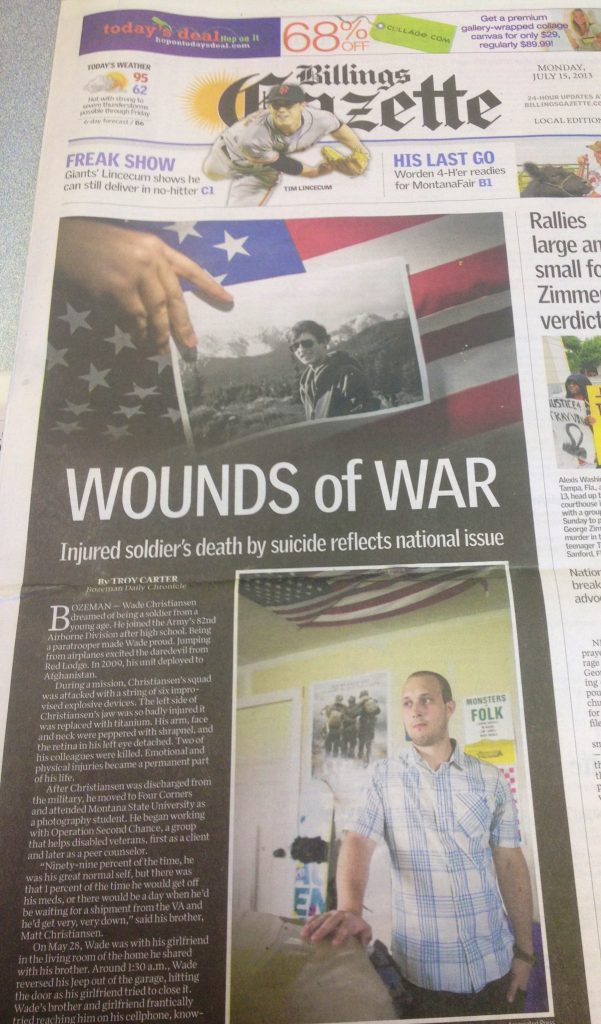 Wade's story is worth reading: Wounds of War. We don't have to accept tragedies like this and we CAN do something about it. One of The Boot Campaign's major areas of focus is Veteran Wellness, supporting a full range of recovery efforts, including Post Traumatic Stress Disorder, therapeutic outdoor retreats and prosthetics. YOU CAN MAKE A DIFFERENCE TODAY. Join the Ride and Support the Cause! I wasn't sure what to expect as I left Billings. It was a beautiful sunny day – the best to date of the entire Ride. Everywhere I looked where some of the most inspiring views of a great country. In the distance, I could see Beartooth Mountain, snow still visible on the peaks. At 12,807 feet, Beartooth is the highest point in the state of Montana and all bikers know that Beartooth Highway (U.S. 212) is one of the best rides anywhere. Almost every exit enticed me to veer off the path to Yellowstone National Park. Rode along a stretch of I-94 named in honor of Donald Jack Ruhl (July 2, 1923 – February 21, 1945), a Montana boy who joined the Marines, and sacrificed his life by falling on a grenade to protect fellow Marines during the Battle of Iwo Jima. For his bravery, he was a posthumous recipient of Medal of Honor. Stopped in Butte for lunch and visited with the members of the Butte-Silver Bow Fire Department. All our first responders are heroes too, and it was an honor to hang out with these guys for a while. Took a photo and they even gave me a Department Challenge Coin.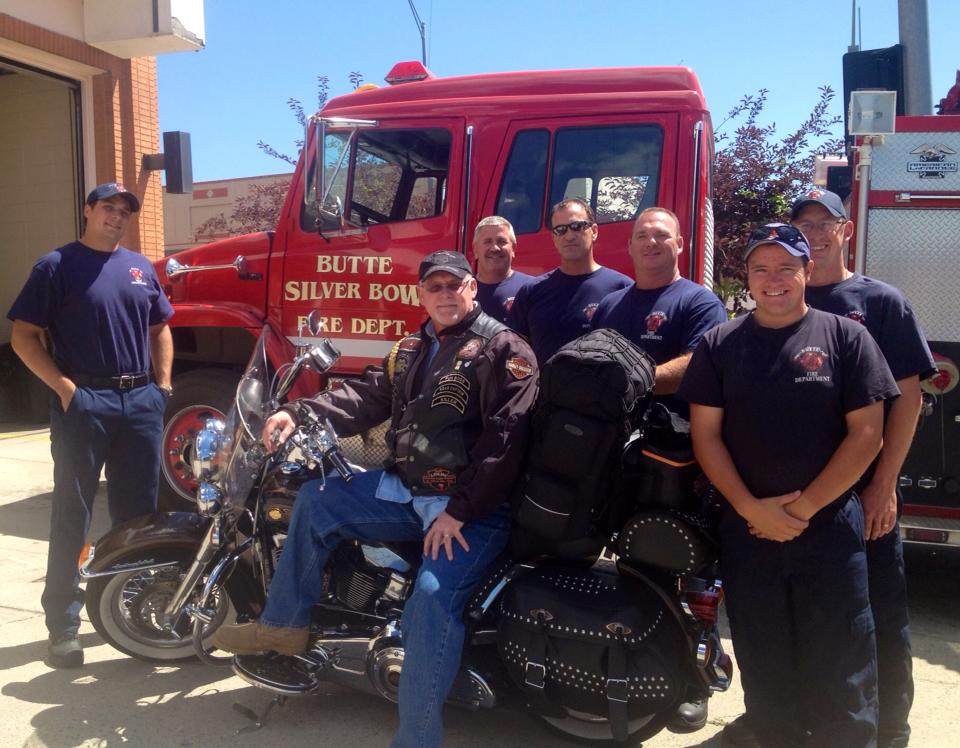 Less than an hour later, I saw, first-hand, how these local firefighters respond to an emergency. For some time I could see massive smoke billowing in the distance and I eventually came across a huge fire burning on the mountain. Fire teams using helicopters and planes were attacking the fire overhead, loading water from the river right along the highway. Amazing.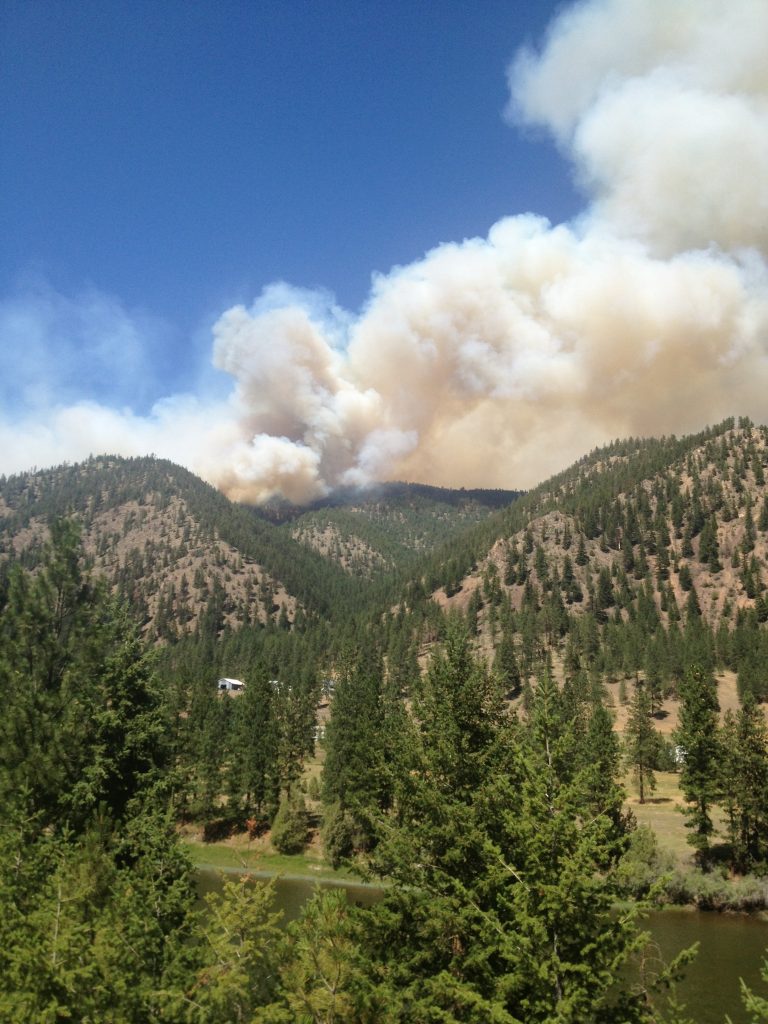 Crossed over into Idaho and finished up perhaps the best day of the Ride. Great people along the way, absolutely beautiful scenery and great twisty mountain roads. Today was a good day. Planning on taking a day off tomorrow for some much needed R&R. Coeur d' Alene looks like a place worth exploring.
Day 17 is dedicated to the memory of Wade Christiansen; his brother, Matt who is telling Wade's story as a precautionary tale, and to all those veterans who we've lost to suicide. We won't forget and we will do something about this national tragedy.