Day 20: Coos Bay to Oakland. 525 Miles
Today's route along US 101 (both the Oregon Coast Highway and into California on the Redwood Highway was one I had been looking forward to since the planning began a few years ago. Spoke to my friend, Kelly Massey, last night about the long day ahead and he answered back, "it will be the best 10 hours you ever spend on a bike."
He couldn't have been more right.
Knew the day ahead would be special when I passed Hull Loop Road and Bullard's Beach State Park, reminding me of my riding buddy Doug Hull and long-time friend Cathy Bullard. I found Bigfoot in the Bandon Marsh National Wildlife Refuge, and there is a photo posted on my Facebook Page if you are a non-believer.
So many quaint towns and villages along the Oregon Coast, but had to stop in Port Orford to take a photo (the first of MANY today) of Battle Rock, where the Qua-to-mah Native Americans fought Captain William Tichenor and his men in 1851.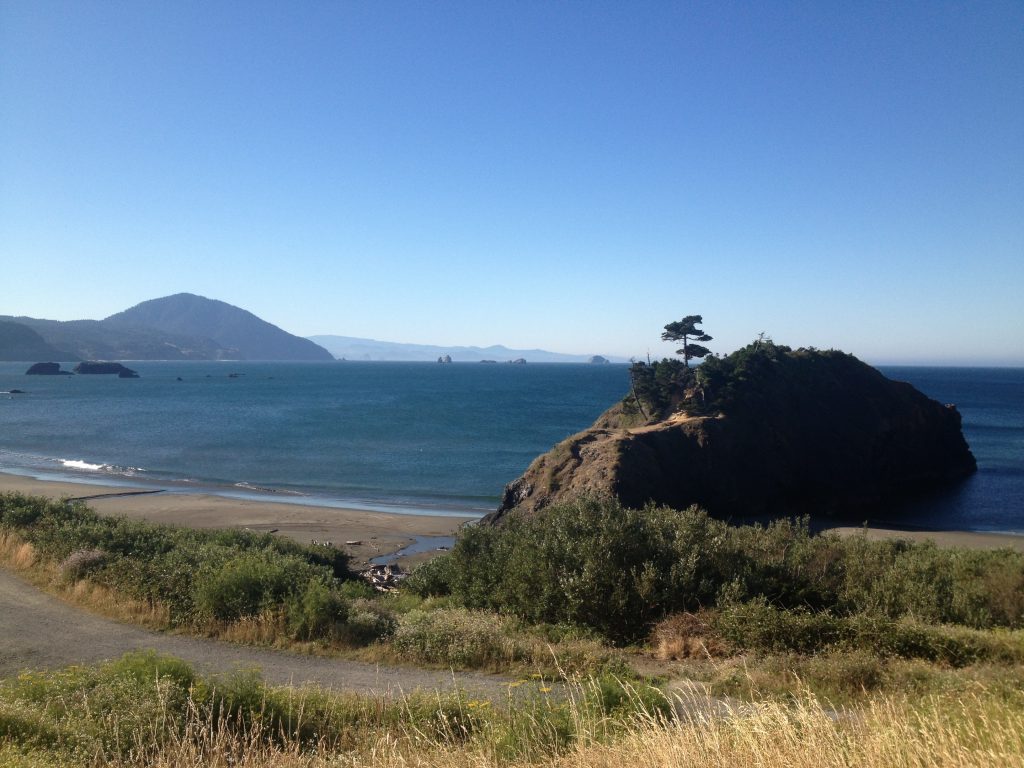 I didn't have time, but according to the historical marker on-site, you can hike the hill to the top of the Rock for one of the most spectacular views on the coast and see Grey whales that like to hang out in the cove. The view from the roadside was spectacular enough, but just a peek at what was to come just down the road.
From Battle Rock, through Humbug Mountain State Park, past Sisters Rock State Park, Otter Point, Gold Beach and Cape Sebastian State Park is just miles of beautiful rugged coastline. Indescribable, but there are photos on my Facebook Page that may do the actual experience some justice. Every twist and turn along the coastline offered up another breath-taking view, it was difficult not to stop and take photos all day.
Crossed over the Pistol River (I just loved the fun names along this road) and over the Chetco River on another of the many bridges I would cross on this journey, headed to the California state line.
Some Steven Foster trivia. I was born in California, at March Air Force Base in Riverside, so riding in my "home state" was something I'd been looking forward to. For years, my friends Gary and Kathleen Vaughan (who reignited my passion for riding motorcycles about 10 years ago) had been telling me about the Redwood Highway, and that is was a "must-ride" for any biker. Their stories of their rides through the Redwoods were fantastic. And the ride itself: I'm still trying to catch a breath.
Miles of ancient, majestic trees that reach to heaven along the aptly-named Avenue of Giants. Fog and mist swirl all around, with sun beams streaming through. It's primordial, and that's not a word we can use aptly or often, but both are true here. Two interesting stops: The Immortal Tree, though not the oldest redwood in the forest, is over 950 years old and stands about 250 ft; and The Tree House, a house partially, built within a giant redwood.
Very cool stuff.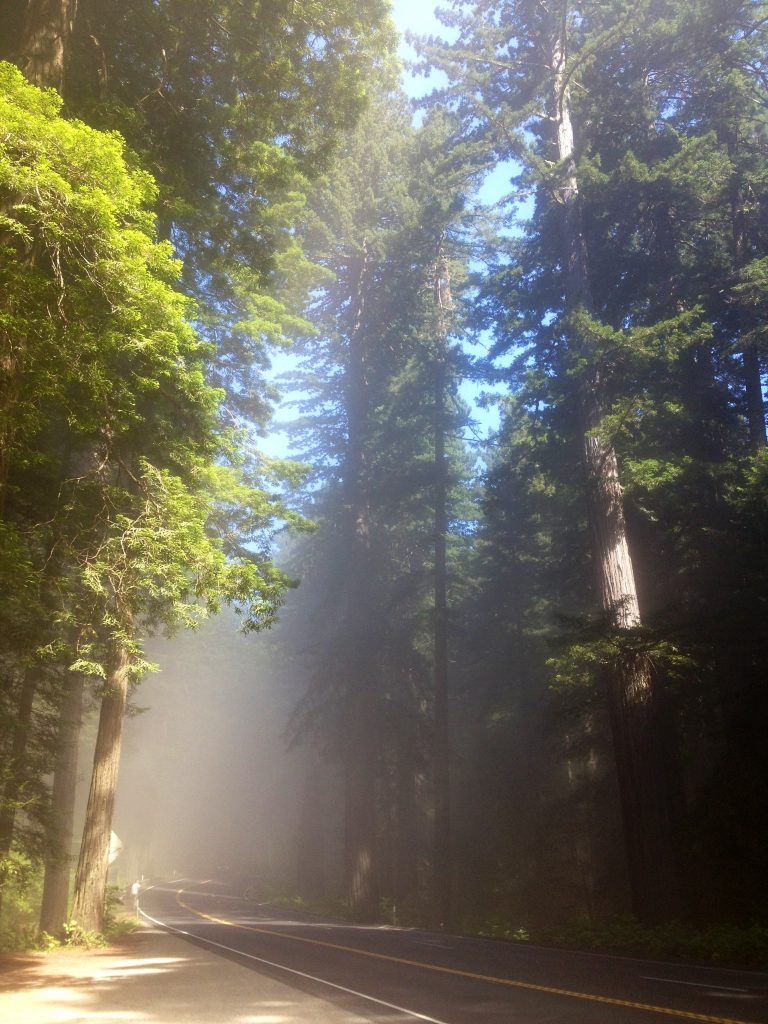 I stopped for several minutes in the midst of the Redwoods, just looking at this wonderful creation. I later posted that I had found "God's Church." This amazingly awesome landscape leaves no doubt.
The rest of the Ride alternated between coastline and forests. This is "postcard country" for sure.
Remember those layers I put on to begin the Ride? By the time I hit inland later in the day, the temperature had rocketed into the 90's and it was toasty. Stripped down to normal riding attire (t-shirt) and moved on.
With all the surprises of the day, I guess I wasn't paying too much attention to the map, because the final two hours took me right through wine country, acres of grapes and tasting rooms aplenty. There really is something for everyone on this stretch of the American Road.
Crossed over the Oakland Bay Bridge and checked in to the hotel. WHAT A DAY!
Day 20 is dedicated to the men and women of the US Coast Guard Group/Air Station in North Bend, OR. "Semper Paratus" (Always Ready).